This shop has been compensated by Collective Bias, Inc. and Conagra Brands. All opinions are ours alone. #CollectiveBias #Reddiforfall
Today is a big day, folks. It is officially our first pumpkin recipe of the season! Our weekend was packed full of pumpkin farms, corn mazes, sweaters, and dare I say it, scarves! Look out, we've reached full Fall mode, and we're not turning back. (How many Instagram pictures of pumpkins and gourds is too many? Asking for a friend..)
It was the perfect Autumn packed weekend, and to make it even better was ending it all with these super easy, but delicious pumpkin dessert jars. Using The Bakery at Walmart pumpkin Cake Roll with Cream Cheese Filling, and Reddi-wip® Original, we threw together these dessert jars that are sure to become a new Autumn favorite.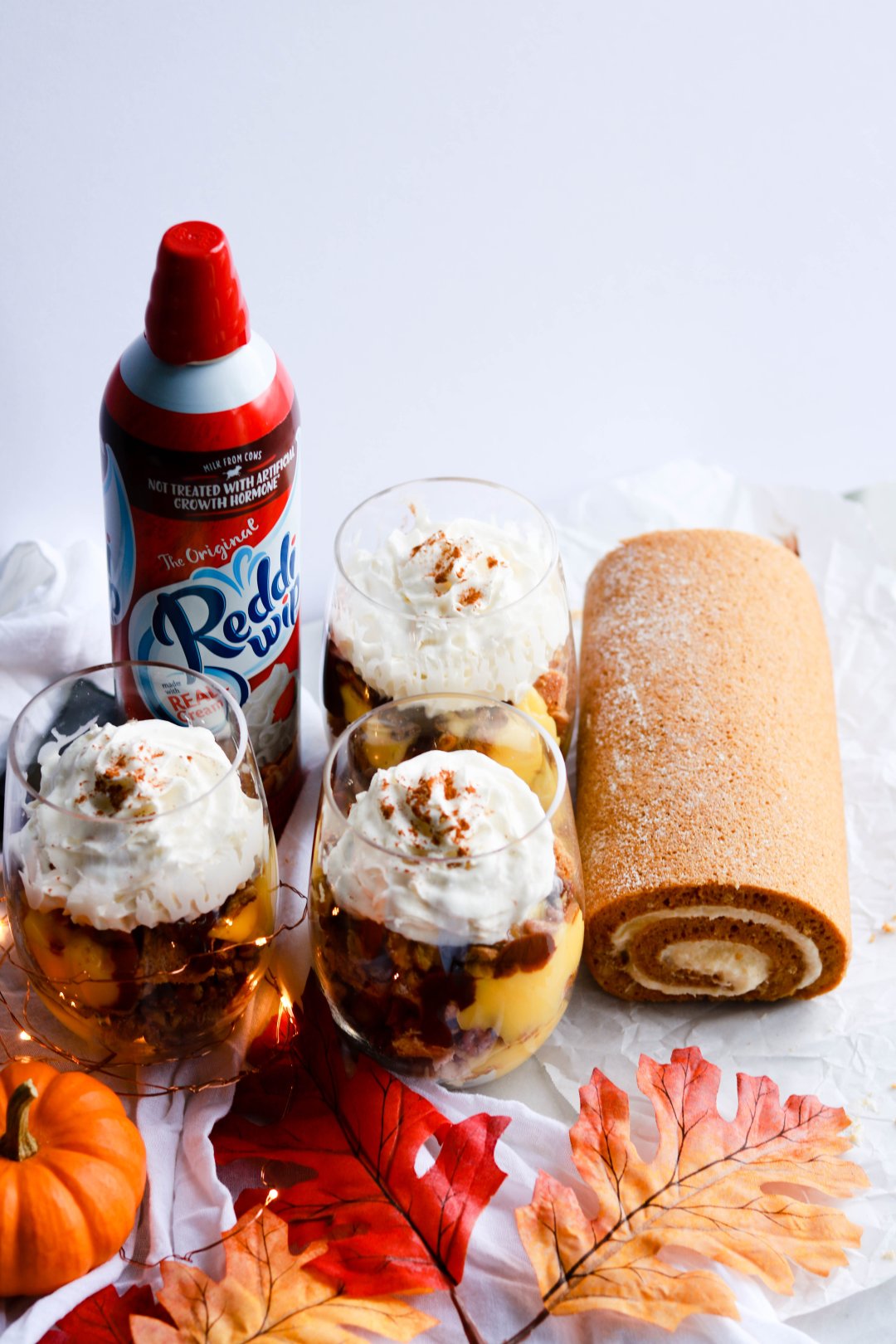 If you're interested in trying this dessert, just hover over the photo to shop the products we used!
These dessert jars are full of layers of magical goodness. AKA- Pumpkin cake roll pieces, vanilla pudding, caramelized cinnamon pecans (game-changer), chocolate ganache and a big ol' dollop of cold Reddi-Wip. The great thing about throwing it all into a jar like this is that you get a little bit of everything with each spoonful.

Is there anything more beautiful than a chocolate drizzle?
Just layer everything however you want it. You can be as organized or as reckless as you want with it. Not only is the 'just throw everything in there' approach incredibly easy, but all those layers make this dessert pretty to look at!

The Reddi-Wip and Pumpkin cake roll are the star of this Autumn dessert show, and both products are very easy to find. Just visit the bakery and refrigerated section of your local Wal-mart. The whipped cream is snuggled right in with the coffee creamers.
To find more fall recipe inspiration —->  Click Here!
Ingredients
For Carmelized Pecans

1 Tbs Butter
1 Cup Pecans
1/4 Tsp Cinnamon
1/4 Cup Granulated Sugar
For the Ganache

1/2 Cup Semi-sweet chocolate chips
1/2 Cup Heavy Cream
For the jars

1 Walmart Marketside Pumpkin roll, cut into small chunks.
1 13oz can Reddi-wip Original
1 box Instant Vanilla Pudding mix
Instructions
For the Carmelized Pecans

Using a skillet over medium high heat, add butter, nuts, cinnamon and sugar.
Stir everything constantly until the butter is melted and the nuts are evenly coated.
Remove from heat and transfer to parchment paper to cool.
For the Ganache

Place chocolate chips in a large bowl and set aside.
Bring the heavy cream to a simmer on the stove. (You could also heat it in the microwave if you didn't want to use the stove).
Pour the warm heavy cream over the chocolate chips and stir until the chocolate chips are melted and smooth.
Allow to cool before using.
Assembling the jars

Prepare the pudding as instructed (We used instant pudding mix, ours only had to set for 5 minutes)
Slice the pumpkin roll into 1 inch slices and then cut the slices into squares.
Layer all of the components in the jar however you like.
We did a layer of pumpkin cake roll, pudding, and caramelized pecans.
We repeated that a second time, then drizzled the jars with chocolate ganache, and topped with a dollop of cold Reddi-wip.
** It is best to top with Reddi-Wip right before serving.